Super Saver Season
Pay for 2, 3rd night free!
Value Season 1
Value Season 2
Summer Season 1
Summer Season 2
4/01 to 6/8
9/10 to closing
6/9 to 6/15
9/4 to 9/9
6/16 to 6/29
8/20 to 8/31
6/30 to 7/13
7/14 to 8/19
Sept. 1, 2, 3
Daily
5 Nite
Sun.
Ck-In
Week
Daily
5 Nite
Sun.
Ck-In
Week
Daily
5 Nite
Sun.
Ck-In
Week
Daily
5 Nite
Sun.
Ck-In
Week
Daily
5 Nite
Sun.
Ck-In
Week
101 & 102
$155
$464
$680
$179
$536
$780
$237
$829
$1191
$288
$1239
$1764
$307
$1321
$1879
2 dbl, poolside
$155
$464
$680
$179
$536
$780
$237
$829
$1191
$288
$1239
$1764
$307
$1321
$1879
103, 201, 215
$203
$609
$883
$236
$709
$1023
$260
$910
$1304
$313
$1347
$1915
$337
$1448
$2057
Surf inn & 204
$234
$702
$1013
$272
$817
$1174
$300
$1049
$1498
$363
$1560
$2214
$389
$1671
$2370
205
$256
$769
$1106
$300
$899
$1288
$329
$1153
$1644
$397
$1709
$2422
$427
$1836
$2601
Cottage
$275
$824
$1184
$321
$962
$1377
$353
$1235
$1759
$427
$1836
$2601
$458
$1970
$2787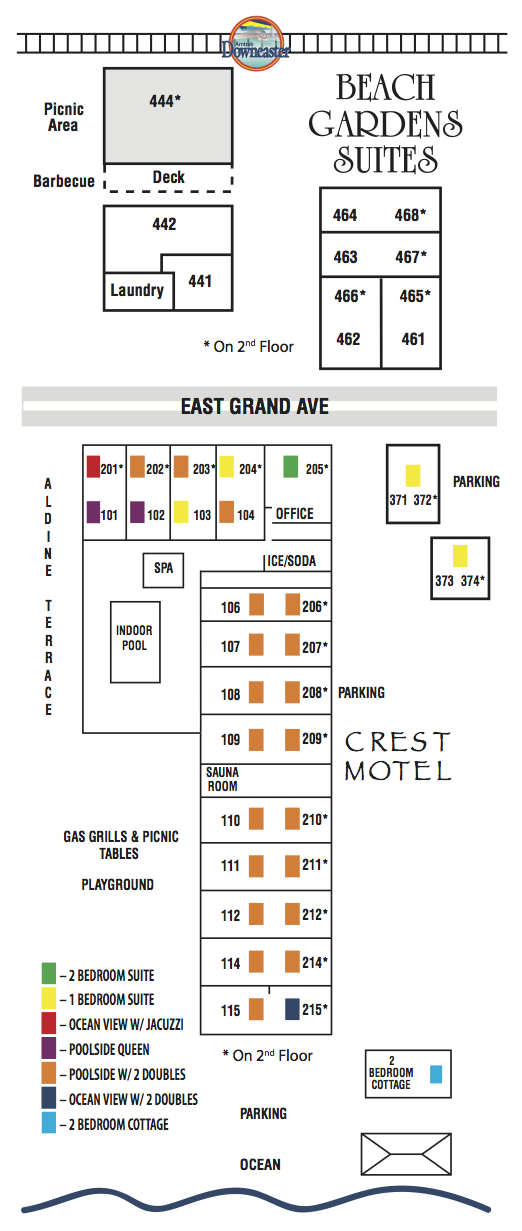 Policies
Here you will find the policies and fine print as follows:
All Rates Based on Double Occupancy.
Extra Adults (16+) $15/night.
Children 15 and under free.
Add $15/night on weekends.
Add $25/night for holidays.
Cot $15/night.
1 car per unit during the summer season. Additional car $25 per day ONLY if space available (must make reservation in advance). Two Bedroom Suites = ONE CAR PER UNIT
SORRY, NO PETS!
Surcharges and Minimum stays may apply for weekends, holidays, and special events.
One night deposit for daily reservations.
5 night and 7 night stay requires a %50 deposit.
Full payment must be received prior to 30 days of arrival.
Check In at Crest Motel (across the street): 3:00pm or later.
Check-out: 10:00am.
All reservations including a Saturday night stay require 2 night minimum
Refund Policies:
7 day cancellation required for less than 5 nights stays.
30 day cancellation required for 5 night or longer stays.
Cancellation processing fee $25.